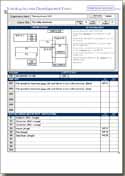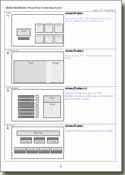 Bespoke courses Training Access (UK) can produce for you bespoke high quality professional elearning courses on any subject matter.
During the development process, clients are provided with the necessary support, from the initial scope of the course content, through to the development of storyboards.These storyboards can be created from scratch or they can be based on existing PowerPoint presentations.On completion, a demo is produced and once agreement has been reached as to the style and format of the elearning material, the elearning course is produced or developed further using TAD Forms.
These courses can be produced in various formats, i.e. CD Rom, HTML, SCORM or AICC. Training Access (UK) prides itself on keeping overheads low, and passing on the savings to their clients. All production costs are 'transparent in nature ' and are based on the Training Access (UK) comprehensive course development price list. So please contact Mark Hinchliffe to see how we can provide you with elearning training material that is within your budget. Course development costs is only £1650.00 + VAT to convert a half / full day powerpoint course into elearning.